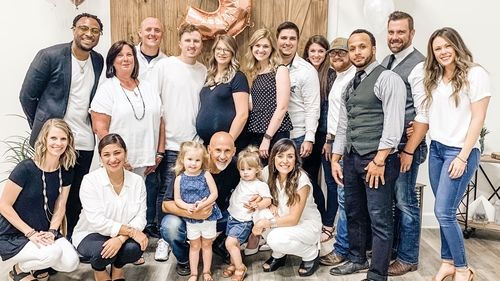 Lead Pastors
Todd & Rochelle Foster
Pastor Todd is a native of Lake Charles, Louisiana and has served in ministry on and off over the last 20 years as a Pastor, Evangelist and Event Speaker. Basketball is also a passion of Todd's heart and he has coached on a high school and college level for 16 years after playing college basketball. Todd's love for hurting people and passion for the things of God are contagious. His heart is to bring unity to our city bridging both races and denominations in effort to see our community restored. After hearing a disturbing statistic that three-fourths of our community are not connected to a church, he was driven to reach those people and bring them into the kingdom of God! Todd graduated from East Texas Baptist University and is pursuing his masters in Biblical Studies.
Rochelle Frazier-Foster is a native of Pike County. Rochelle returned home after 18 years with a burden to see her city restored and prosperous. She is an author and speaker and teaches the Word of God to women across the U.S. (Her ministry can be found at
rochellefoster.com
.) After a devastating diagnosis in 2006, Rochelle became desperate for God's healing. Not only did she find that healing, but she was awakened to a new sense of faith and purpose as a result of it, and now she passionately seeks to awaken others in the church that may have missed the life of a believer that should be marked by fruit, power and love rather than mere church attendance. Rochelle has a passion for freedom and healing ministry and believes it will be a vital part of the DNA of the Well Church, because only free people can truly free people. She is a graduate of Mississippi State University and is currently pursing her masters in counseling.
The Fosters reside in McComb and have five children Holland Rose, Houston, Jackson, Dailey Joy, and Jadyn.
Dusty & Brittney steward many of our environments outside of Sundays such as: Grow 101, Celebrate Recovery, Well U, and all class environments here at the church.
Production Coordinator/Marketing Director
Beau and Emily help to bring leadership to several areas of ministry at the church including: Students, Men's & Women's Ministries, Marketing, Service Production, and Web/IT.
David & Amanda oversee the teams that handle our Nursery, Preschool, Elementary, and 5th-6th grade environments.
Dayce & Summer Swearingen
Garry & Larita Harthorne
Our worship team is lead by two dynamic couples, The Swearingens and the Harthornes. Their heart is to mix different styles, backgrounds, and cultures to form one sound that brings glory to God.
Krayleon leads our youth ministry that reaches outside the wall of the church to make an impact on 7th-12th graders throughout our city and community.
Connections and The Table Administrator
Robin helps first time guests get connected and feel welcomed at the church as well as overseeing all of our First Impressions Teams. Additionally, she helps people plug in with our Equip and Community Tables through the Table Minstry.